IoT and Industry 4.0 in manufacturing
Digital transformation advances value creation

ConMoto's approach to digitization is pragmatic and practice-oriented. Industry 4.0 is a reality and the automation and digitalization of manufacturing is accelerating all the time. That is why we include networking of product and manufacturing plants as well as transport and storage systems in our down-to-earth cost-benefit analysis. In other words: digitalization must be profitable for your company – by improving value creation.
Many producing companies already pursue a digitalization strategy. More than 90 percent use analytics, process mining and robotic process automation as key technologies. ConMoto supports you in optimizing production processes for digital manufacturing to achieve maximum benefit. Digital business models are impossible without company-specific automation of production systems, because business excellence is defined primarily by process quality (reproducibility) and short response times (control circuits). The aim is to achieve the highest cost efficiency, better customer satisfaction, more transparency and faster processes to ensure sustainable economic success. Along the way, non-value-added activities are reduced. The resources saved can be re-directed to improve strategic core processes.
Effective digitization, high process quality
With our clients we develop individual digitization strategies based on the maturity level of manufacturing processes and the degree of digitization of the overall organization. Only if process maturity and digital maturity levels are analyzed and developed simultaneously, scale effects can be achieved in the subsequent implementation. ConMoto designs all activities to increase the benefits of our clients and to generate substantial and quick returns.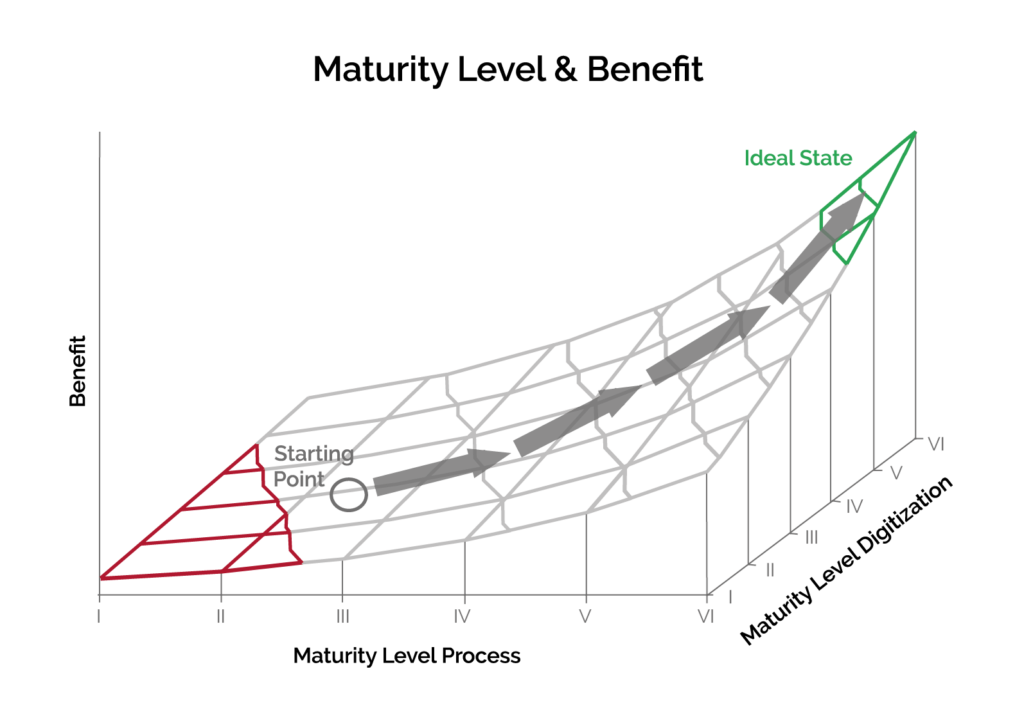 In analyzing maturity levels, we rely on ERP event data as well as data from other planning and control systems. ConMoto has developed its own maturity model for digitization. It evaluates dimensions data, quality, organization and technology. The review is based on a comprehensive checklist for development, sales and operations planning, procurement, production and logistics.
Solutions for digital process automation
Whether highly individual, flexible and efficient production systems or transparent and responsive supply chains – the ConMoto experts find company-specific, but still standardized solutions for your value creation processes. These solutions can be tested and optimized for individual value chains before being rolled out throughout the organization. We always rely on cost-benefit calculations and protect you from premature and expensive misinvestments. We help our clients to raise the full productive potentials of industrial digitization.