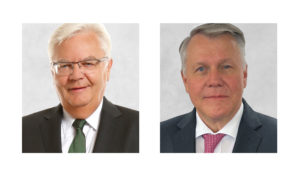 The fact that the automotive industry is undergoing a huge transformation process is now on everyone's mind. The big drivers of change are the shift from combustion engines to electric motors and the unstoppable trend toward automated driving. In our observation, the current political and economic crises are adding new drivers: global inflation, chip shortages and the impact of Russia's war against Ukraine are influencing events. The situation in Taiwan has dramatically escalated due to China's aggressive maneuvers simulating the capture of the island. This will have not only political but also economic consequences, because Taiwan is an important source of semiconductors. All these developments make it even more urgent to find the answer to two central questions: Are automotive manufacturers and suppliers prepared for technological change and changing market conditions, and what can they do to benefit from the change?
Mercedes focuses on high-margin vehicles, earning more with less volume is the goal. From the company's point of view, this is certainly consistent and it works: Mercedes' passenger car division, like other automakers at the moment, has a good return on sales (Mercedes 14 percent in Q2, Porsche just under 20 percent, the Stellantis Group with brands like Chrysler, Fiat, Citroen and Opel 14 percent) despite falling sales figures. Prices are primarily responsible for the returns, not higher productivity. Manufacturers are able to push through price increases, no longer boosting sales with discounts as in previous years and focusing on the most expensive models to increase profits.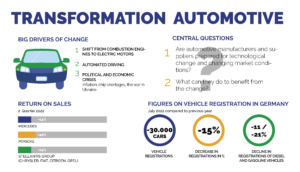 The future: premium vehicles and 100 percent electric
By 2026, Mercedes' goal is to increase the share of the top-end segment by 60 percent compared to 2019. In addition, the Group announced at the end of June that Mercedes passenger cars will be 100 percent electric by 2030, where market conditions permit. The engine and transmission of electric cars are significantly less complex than those of cars with combustion engines. China now has a large market share in e-cars. In July 2022, 30,000 fewer vehicles were registered in Germany than a year ago, a decline of 15 percent. The share of diesel and gasoline vehicles increased by 11 and 21 percent decrease. Long waiting times for some types still make it seem as if declining sales and the change in the vehicle market are a consequence of the chip crisis. Much more important, however, are structural shifts that will have a much harder impact on the automotive sector in Germany in the long term. All major trends in the automotive sector point in the direction of job losses in Germany:
structural changes in technology, simpler, less complex vehicles;
battery performance, charging capacity and range are the new differentiators;
software expertise is becoming more important than hardware expertise: This means that shares of the value chain and business models are shifting, and new players with strong software expertise such as Apple, Amazon and Google are entering the market;
automated and autonomous driving will make ease of use and driving comfort more important than motorization;
Intensification of competition from China;
less emotion for the car than in the past, many young people don't have a car at all, the car is no longer a status symbol;
general inflation with energy prices leading the way.
How can OEMs differentiate themselves in changing markets?
While Volkswagen and other car manufacturers in Germany are still trying to catch up in terms of software, Chinese manufacturers are moving into our market: BYD, which relies exclusively on electric drives, will start selling passenger cars in Germany in October. Automated or even autonomous driving will change vehicles at least as much as the switch to electric motors. Vehicles are certainly becoming simpler and lighter in body construction, with ride comfort and connectivity taking center stage. A vehicle that automatically drives at 120 km/h in a crowd has different brakes than a car that drives at 250 km/h on the highway. Against the background of the aforementioned trends, fundamental questions also arise regarding a future brand strategy or even the identity of OEMs. With electric drives and a development of transport in the direction of autonomous driving, the engine, drive and performance as differentiating features are no longer required. The car is becoming a commodity.
The question is whether the German supplier industry in particular is prepared for all these changes. Market and technology leaders such as Bosch and ZF are doing well, but what about across the board?
Is your company prepared for these developments and dramatic changes?
Do you have a realistic five- or even ten-year plan?
What alternatives do you have?
Do you have your costs under control??
As consultants, and more importantly as international managers, we have a lot of experience in dealing with such challenges. Call us, talk to us.